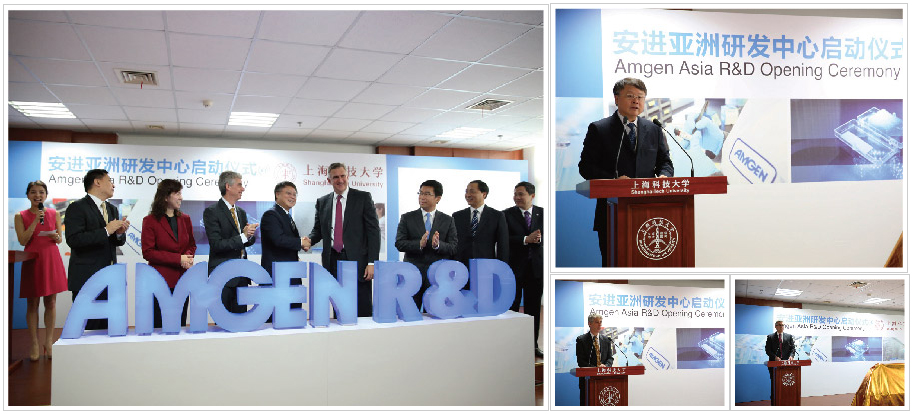 Author:SIAIS
Date:23 November 2014
On November 17th, Amgen Asia R&D Opening Ceremony was held in ShanghaiTech with the attendance of university leaders, high-level executives of Amgen and representatives from Shanghai Pudong New Area People's Government and Zhangjiang INNOPARK Administrative Committee.
After Robert Bradway, Chairman & CEO of Amgen delivered his address, Mianheng Jiang, President of ShanghaiTech University, extended congratulations on the initiation of Amgen Asia R&D Center. He mentioned that Amgen was a world pioneering innovative pharmaceutical company and ShanghaiTech was a newly-founded university actively engaged in innovation with the focus on the cohesion between education, research and industry. He recalled that ShanghaiTech and Amgen have established strategic partnership since the two sides signed the Memorandum of Understanding last September. During the past year, the two parties have carried out an in-depth cooperation in various fields, including jointly hosting 2014 ShanghaiTech-SIAIS Bioforum and conducting research on GPCR (G Protein-coupled Receptor). Jiang said the settlement of Amgen Asia R&D Center in ShanghaiTech was supposed to boost the cooperation to a new height. On one hand, Amgen R&D Center would be highly supported by the research team from ShanghaiTech; on the other hand, ShanghaiTech students and faculty members would gain easy access to the leading labs of Amgen and accumulate first-hand experience.
Subsequent to the speech made by Sean Harper, Executive Vice President of Research & Development at Amgen, Robert Bradway, Mianheng Jiang, Sean Harper and Lei Ding, Deputy Governor of Pudong New Area, jointly unveiled the plaque. After the ceremony, part of the attendees were invited to visit Amgen Asia R&D Center.
Founded in 1980, Amgen is the world's largest independent biotechnology firm with branches in 75 nations. Amgen Asia R&D Center in ShanghaiTech will accelerate the commercialization of scientific achievement and advance the development of biomedical industry.