On October 21th, the CAR T-cell therapy pioneer Dr. Carl H. June delivered the ShanghaiTech Lecture, entitled "The Development of CAR T Cell Immunotherapy," to a packed auditorium. ShanghaiTech president Dr. Jiang Mianheng thanked Dr. Carl H. June on behalf of ShanghaiTech University and presented him with the ShanghaiTech Lecture plaque as a token of appreciation.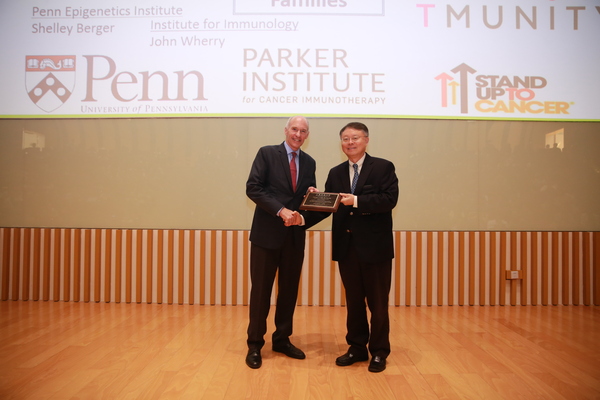 Before the lecture, ShanghaiTech President Dr. Jiang Mianheng invited Dr. Carl H. June for a discussion to share insights on the frontiers of immunotherapy. In addition, SIAIS Executive Director Dr. Jiang Ge welcomed Dr. June on a tour of SIAIS research facilities and they had a discussion with a group of ShanghaiTech researchers in immunotherapy field.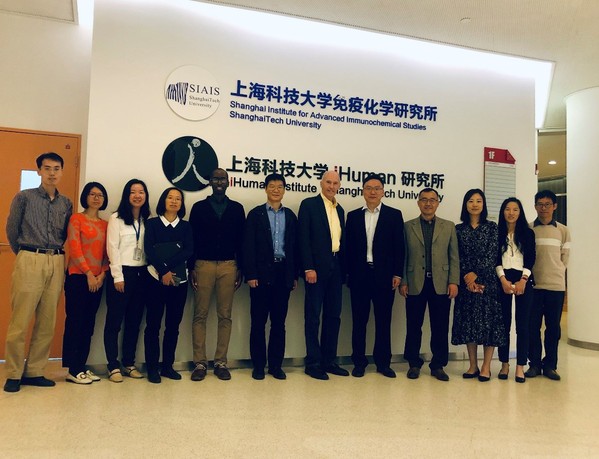 ShanghaiTech Vice President Dr. Yin Jie introduced Dr. June and gave a brief introduction. Dr. June is a professor of immunotherapy at the University of Pennsylvania, as well as the scientific founder at the Tmunity Therapeutics and Xcyte Therapies. In 2018, he was named one of "Time Magazine's Most Influential People in the World" for his pioneering work with CAR T cells therapy, which is one of the most watched areas in cancer therapy.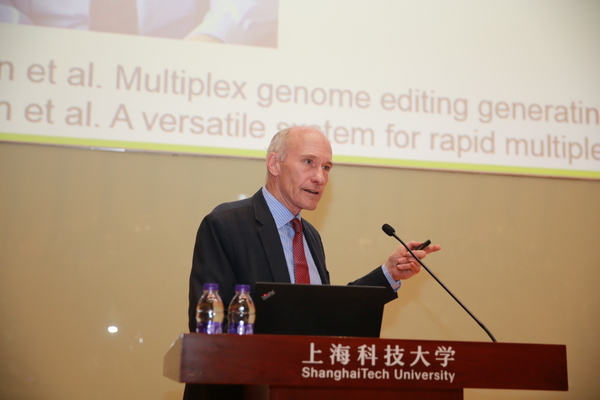 Starting with a review of the evolution of CAR T-cell therapy, Dr. June briefly summarized the origin of CAR T cells and outlined major research projects and clinical trials. He first spoke of the clinical trial he led at Penn in 2010, which was the first ever experimental CAR T-cell therapy and achieved huge success in chronic lymphocytic leukemia (CLL) patients. He told the audience that Emily Whitehead, the little girl who was cured in the clinical trials, remains in remission till now. Subsequently, Dr. June reviewed the discovery of Kymriah, the world's first FDA-approved gene therapy developed by his team.
Dr. June also shared their ongoing projects, including CRISPR edited CAR-T cells (collaborated with Dr. Zhao Yangbing's team) and engineered T cell trials. He noted the advances of CAR T-cell therapy for solid tumors, which cause 90% of cancer deaths yet remain an unmet medical need. With the promising preliminary data, Dr. Carl H. June unwrapped the potential of CAR T-cell therapy in solid tumor treatment and beyond. "CAR T cells are living drugs," he said.
Lastly, he presented the interim report of NYCE T cell trials, led by his team, and detailed the recruitment and enrollment of the trial cohort. In his closing remarks, Dr. June concluded by summarizing the opportunities as well as challenges, and revealed new rationales along with novel strategies for the next generation CAR T cells.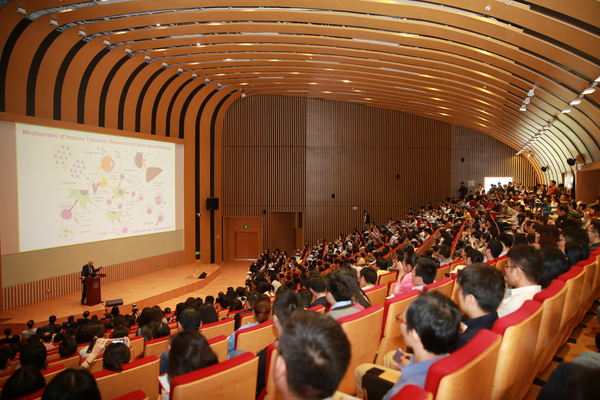 During his lecture, Dr. June brought in the recent advances in CAR T-cell therapy, as well as effective technology transfer models. He also complimented the development of ShanghaiTech and the progress of CAR T-cell clinical trials in China. The success of the event promises further meaningful collaborations and innovations in the field of immunotherapy.