Researchers from SIAIS of ShanghaiTech have been engaged in the race against COVID-19 since the epidemic broke out in January 2020. To accelerate the research work of specific drugs, a symposium on COVID-19 research work was held at SIAIS on March 24.
The symposium was hosted by Dr. Jiang Ge, the Executive Director of SIAIS, Vice Provost of ShanghaiTech. Attendees included Dr. Yin Jie, Vice President and Provost of ShanghaiTech, Dr. Xu Wenqing, Professor of SLST, Director of National Center for Protein Science Shanghai, Dr. Rao Zihe, Professor of SIAIS, Academician of the Chinese Academy of Sciences, Dr. Jiang Hualiang, Professor of SIAIS, Academician of the Chinese Academy of Sciences, and other SIAIS principal investigators and platform directors.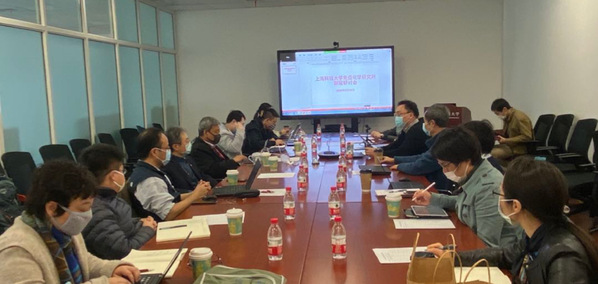 Dr. Yin Jie appreciated the researchers'efforts on the research of COVID-19, and assured ShanghaiTech's continuous supports to the research teams. SIAIS research teams presented their research progress on COVID-19. Drs. Rao Zihe, Yang Haitao and Wang Quan presented their work on protein structures resolved from COVID-19 and explored the mechanism and potential drug targets. Dr. Jiang Hualiang discussed the screening of anti-epidemic drugs and showed exciting progress in enzyme assay and clinical applications. Other SIAIS principal investigators, Drs. Bai Fang, Fan Guoping, Zhang Hongkai, Ma Peixiang, Liu Jia, Zhao Jian, and Yang Bei, presented their research projects on COVID-19 from the fields of computational analysis, protein engineering and antibody library.
The symposium is intended to provide a collaboration platform for research teams working on COVID-19, where researchers from different fields have opportunities to work collaboratively to accelerate the diagnostics, vaccines and drug discovery to combat COVID-19.