神经退行性疾病的转化研究及思考

Speaker: 陈生弟 Shengdi Chen, M.D. & Ph.D.
上海交通大学医学院附属瑞金医院二级教授、主任医师、博士生导师,神经病学研究所所长,Translational Neurodegeneration主编
Invited by Dr. Jian Zhao
Time: 15:00, Friday, Aug 14th, 2020
Venue: Auditorium at Y Building 人字楼一楼报告厅
- The seminar will be conducted in Chinese.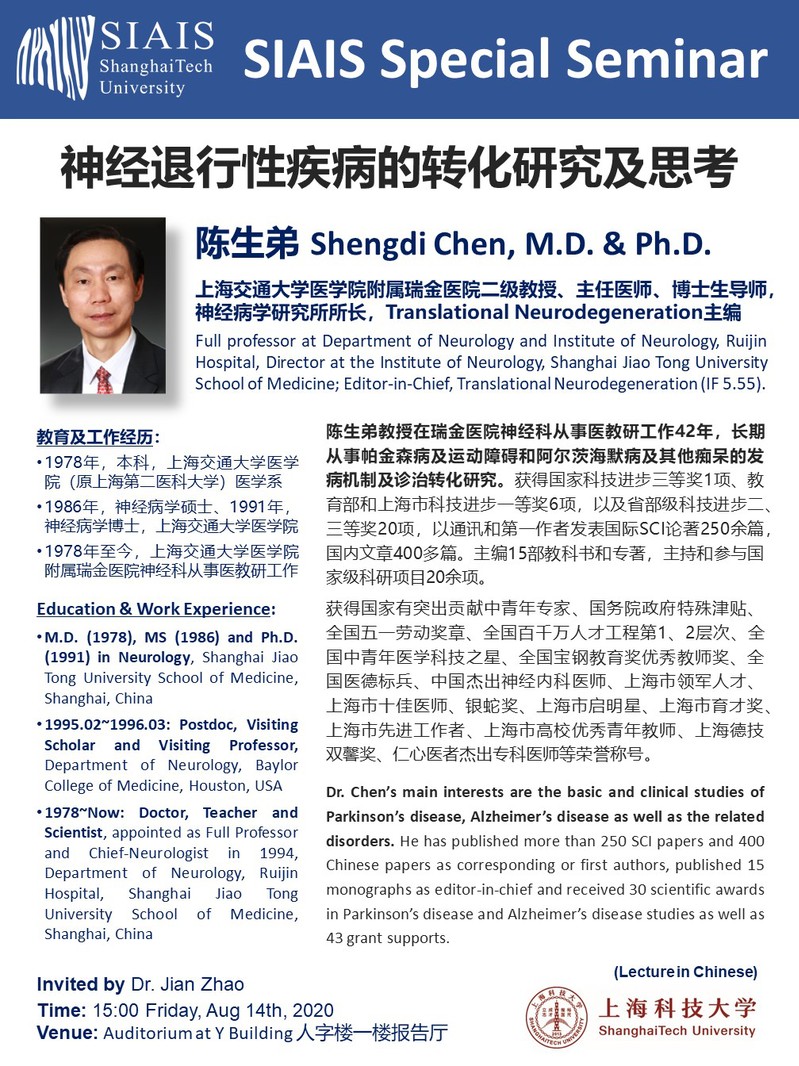 ---
Abstract
陈生弟教授在瑞金医院神经科从事医教研工作42年,长期从事帕金森病及运动障碍和阿尔茨海默病及其他痴呆的发病机制及诊治转化研究机制及诊治转化研究。获得国家科技进步三等奖1项、教育部和上海市科技进步一等奖6项,以及省部级科技进步二、三等奖20项,以通讯和第一作者发表国际SCI论著250余篇,国内文章400多篇。主编15部教科书和专著,主持和参与国家级科研项目20余项。
获得国家有突出贡献中青年专家、国务院政府特殊津贴、全国五一劳动奖章、全国百千万人才工程第1、2层次、全国中青年医学科技之星、全国宝钢教育奖优秀教师奖、全国医德标兵、中国杰出神经内科医师、上海市领军人才、上海市十佳医师、银蛇奖、上海市启明星、上海市育才奖、上海市先进工作者、上海市高校优秀青年教师、上海德技双馨奖、仁心医者杰出专科医师等荣誉称号。
Dr. Chen's main interests are the basic and clinical studies of Parkinson's disease, Alzheimer's disease as well as the related disorders. He has published more than 250 SCI papers and 400 Chinese papers as corresponding or first author, published 15 monographs as editor-in-chief and received 30 scientific awards in Parkinson's disease and Alzheimer's disease studies as well as 43 grant supports.