Eight delegates from the Springer Nature Group visited ShanghaiTech on Nov. 5, 2020, led by the President, Arnout Jacob, and Vice President Helena Yang. President Jiang Mianheng of ShanghaiTech, together with the Vice President Jiang Ge, the Director of the Library and Information Center Zhang Xiaolin, and the Vice Dean of the School of Physical Science and Technology Liu Zhi co-hosted the meeting.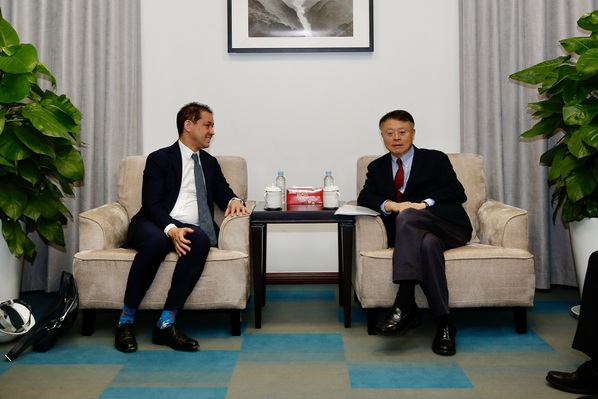 President Jiang warmly welcomed the guests. He expressed his hope of fortifying mutual collaboration and exchanges with the Springer Nature Group in fields such as textbook publication and science ethics. President Arnout Jacob agreed and explained the development and current business model of Springer Nature. He further stressed that Springer Nature will continue to advance its relationship of strategic cooperation with ShanghaiTech.
A Memorandum of Understanding (MOU) was signed after the meeting. Vice President Jiang Ge paid tribute to the leading role of Springer Nature in science and technology and praised the long-term mutual cooperation between ShanghaiTech and Springer Nature. He further expressed the hope that the signing of this MOU would lead to further improvement in social impacts, competitiveness, and research of ShanghaiTech. Mr. Jacob expressed his appreciation for the previous cooperation with ShanghaiTech and the expectation that both sides would coordinate even better in the future to support the research of young scholars.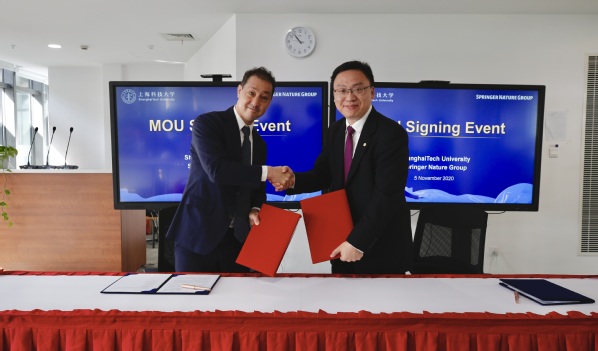 Vice President Jiang Ge and Mr. Arnout Jacob from Springer Nature Group signed the MOU
The delegates visited the Live Cell Imaging Facility and the SHINE (Hard X-FEL) project at the Shanghai Synchrotron Radiation Facility, and MARS at the School of Information Science and Technology (SIST). In addition, they also met with PIs and professors from the SIST, the School of Entrepreneurship and Management, Shanghai Institute for Advanced Immunochemical Studies, and the iHuman Institute.