On November 12, a delegation from Toshiba (China) Co., Ltd. and NEDO visited ShanghaiTech University. Yoichi Miyazaki, Toshiba (China) Chairman, Zhang Tong, the Director of the First Business Promotion Department, Ju Huijuan, the Director of the New Business Development Department, Shigetaka Takagi, the Director of the Beijing Office of NEDO, together with Liang Xiao, Representative, met with Jiang Mianheng, President of ShanghaiTech University. Jiang Ge, Vice President of ShanghaiTech University and Executive Director of SIAIS, Huang Weiguang, Vice President of Shanghai Advanced Research Institute, the directors of the Comprehensive Office, the Office of Technology Transfer, the Office of Research, and professors in related fields also attended the meeting.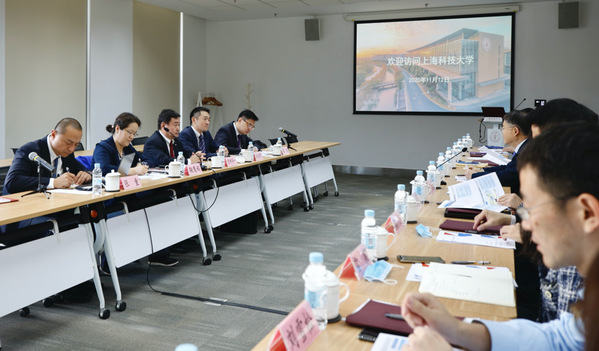 President Jiang Mianheng extended a warm welcome to the delegation and presented an overview and history of ShanghaiTech. Chairman Yoichi Miyazaki introduced Toshiba Group's business development and technological innovation in emerging industries such as semiconductors and fuel cells. Then NEDO and Toshiba respectively presented Japan's fuel cell and hydrogen energy development status, Toshiba's large-scale fuel cell and early cancer screening technology through blood. This was followed by further discussions with attending professors. President Jiang said that Japan's research in the new energy field ranks at the international frontier level, and researchers of ShanghaiTech are also actively exploring the field. He expressed the hope that both parties can strengthen exchanges and sharing, and promote in-depth cooperation in the development and utilization of hydrogen energy and cancer treatment.
After the meeting, the Toshiba and NEDO delegation visited Shanghai Institute for Advanced Immunochemical Studies. Vice President Jiang Ge decribed the recent progress in the institute and had a discussion with the delegation. Professors from SIAIS, including Mikoshiba Katsuhiko, Professor, Nie Yan, Research Associate Professor, etc., also engaged in extensive exchanges with the delegation, hoping to enhance cooperation with Toshiba in the field of medical testing.
Additionally, The delegation visited the School of Physical Science and Technology and iHuman Institute.