The Rise of Highly Accurate Long Reads: Evolutionary Long Reads Technology for Gene Editing, Single Cell Sequencing and COVID-19
Speaker: Chi MA 马驰
Invited by Dr. Jia Liu
Seminar Host: Yanru Cui
‍
Time: 1:30 pm, Jul. 24 (Friday), 2020

Venue: Auditorium at Y Building 人字楼一楼报告厅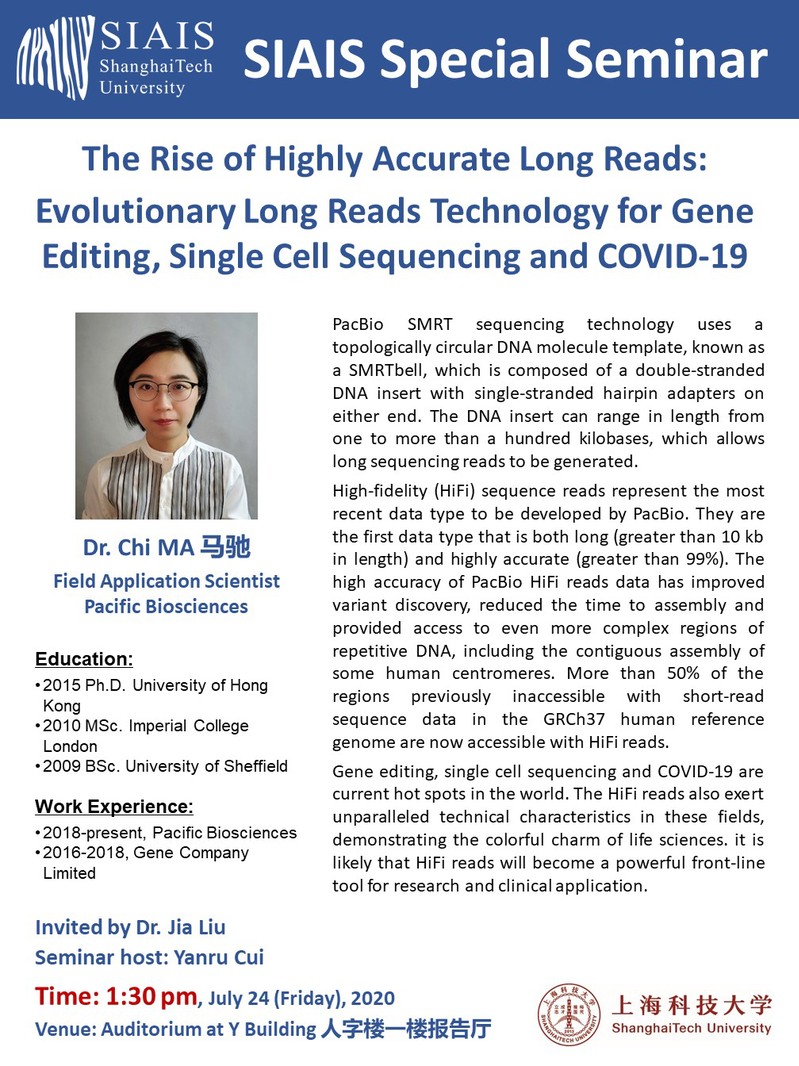 ---
Abstract
PacBio SMRT sequencing technology uses a topologically circular DNA molecule template, known as a SMRTbell, which is composed of a double-stranded DNA insert with single-stranded hairpin adapters on either end. The DNA insert can range in length from one to more than a hundred kilobases, which allows long sequencing reads to be generated.
High-fidelity (HiFi) sequence reads represent the most recent data type to be developed by PacBio. They are the first data type that is both long (greater than 10 kb in length) and highly accurate (greater than 99%). The high accuracy of PacBio HiFi reads data has improved variant discovery, reduced the time to assembly and provided access to even more complex regions of repetitive DNA, including the contiguous assembly of some human centromeres. More than 50% of the regions previously inaccessible with short-read sequence data in the GRCh37 human reference genome are now accessible with HiFi reads.
Gene editing, single cell sequencing and COVID-19 are current hot spots in the world. The HiFi reads also exert unparalleled technical characteristics in these fields, demonstrating the colorful charm of life sciences. it is likely that HiFi reads will become a powerful front-line tool for research and clinical application.